NYOUG is an Affiliate of IOUG

NYOUG does not share its email list with any vendors or other organizations. You may opt out of receiving our email blasts at any time by sending an email to info@nyoug.org with "Remove" in the subject line.
NYOUG would like to recognize and thank the past presidents of the group for their dedication and help to make the group a success.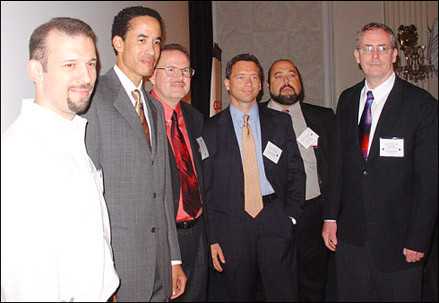 Presidents - Past & Present of Oracle and Oracle User Groups
From left to right: Rob Lepanto (President - NYC OAUG), Charles E. Phillips, Jr. (past President - Oracle Corporation),
Nicholas Donatone (President - NJOUG), Richard Sullivan (Chairman - NJOAUG),
Carl Esposito (NYOUG - President Emeritus), Dr. Paul Dorsey (NYOUG - President Emeritus).
President
Tel: 914.944.0636 option #2



Vice President



Executive Director
Tel: 212.595.7223



Treasurer
Tel: 201.652.1176



Secretary



Director, Strategic Planning, President Emeritus
Director of Information Technology
The New York City Dept. of Education
Board of Ed. Retirement System (BERS)
65 Court Street, Room 1601
Brooklyn, NY 11201
Tel: 718.935.4796



Chairpersons/Vendor Relations



Chairperson/Data Warehousing SIG



Chairperson/Tech Journal Editor



Membership
Tel: 201.652.1176



Chairperson/Web Master



Chairperson/DBA SIG
Tel: 631.242.9343



Chairperson/Long Island SIG
Tel: 631.242.9343



Chairperson/WEB SIG



Chairperson/Venue Coordinator
Hunter College
695 Park Ave.
New York, NY 10021
Tel: 212.650.3414



Oracle Liaison
Oracle Corporation


Founder/President Emeritus


President Emeritus


Director/President Emeritus



President Emeritus
Dulcian Inc.


The New York Oracle Users Group, Inc., its officers, board members, chairpersons and their employers are not responsible for the content, accuracy or reliability of any articles, editorials or other pieces published in this newsletter, presented at public meetings or disseminated in any other way to its members, vendors, or the general public. We are not responsible for any errors, omissions or misprints.